Fuel Monitoring, Maintenance & Servicing
Fuel Monitoring
Unlike our competitors, VerdEnergy offer a suite of innovative monitoring services which enable clients to remove the burden of fuel ordering, and fault monitoring services to ensure that your boiler is the best it can be at all times.
Our systems enable remote monitoring of consumption, faults and importantly fuel levels. We can 'see' what's in your store and order fuel for you. From just £500 we can fit, monitor and order for you. Our longer term customers can often have this for free. Our customers only realise they need fuel when they receive a call from us to say we are on our way! Why not join our portfolio of customers now enjoying the benefits of hassle free biomass.
Biomass Boiler Servicing & Maintenance
We can also offer a similar service for fault monitoring, enabling us to react to outages promptly. The system enables us to know what is wrong before clients do; crucial for high dependency customers such as care homes, schools, hotels etc. We use our own in-house engineering team to service these faults.
VerdEnergy servicing and maintenance contracts, supported by Duncan Renewables, ensure our clients get preferential treatment when it comes to breakdowns, repairs and servicing and at competitive prices. We aim to keep your boiler running to its maximum efficiency year round not just with great fuel but with the best engineering support.
System Health Checks
VerdEnergy also offer a unique health check service, where one of our experienced, qualified engineers will review your installation and RHI data to provide both observations and recommendations on system design, performance and efficiency, both technical and financial.
Biomass Fuel Store Cleaning
VerdEnergy can also offer store cleaning. Our engineers hold Confined Space Working certification and will enter fuel stores to sweep, vacuum and remove accumulations of fines and dust. The ENplus guidance recommends this is done either every 3-5 deliveries or annually depending on store size.
Using a supplier that screens the product, regularly cleans stores and uses dust extraction reduces boiler wear and tear, improves boiler performance, increases efficiency, lowers fuel consumption costs and reduces outages. VerdEnergy can do all of this as standard.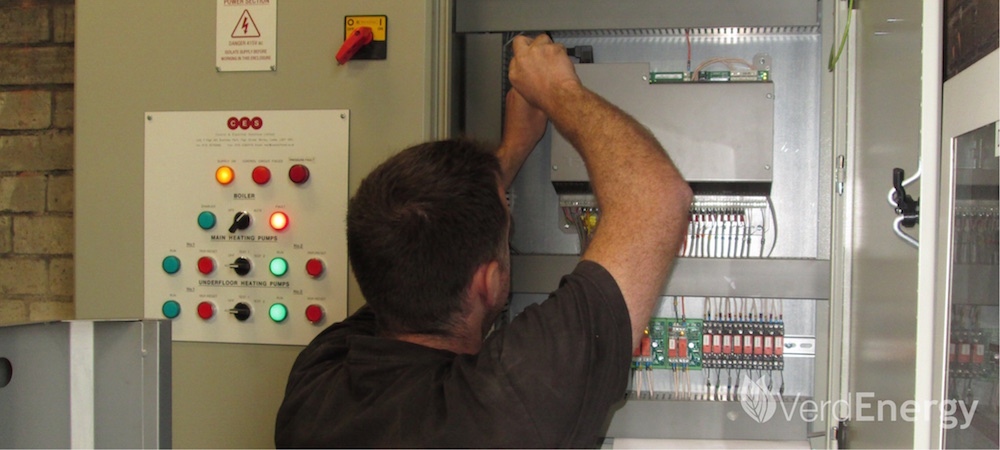 Our Biomass Boiler Engineers
If you're a resident or business in North Yorkshire, South Yorkshire & West Yorkshire, the East Riding of Yorkshire, North Lincolnshire, Co. Durham, Teesside and Tyne & Wear then VerdEnergy's team of engineers can help fix your biomass boiler.
We cover; Bradford, Kingston upon Hull, Leeds, Ripon, Richmond, Sheffield, Wakefield, York, Doncaster, Grimsby, Halifax, Huddersfield, Whitby and Scunthorpe, if you're looking for a biomass boiler engineer please do get in touch.